Kathleen Chopp

(636) 978-6480


Kathy Chopp Biography:

I was born December 29, 1960 in Seattle Washington. At an early age we moved to the beautiful state of Oregon to be near family. Growing up in Oregon has given me a lot of inspiration for my work over the years. My mother was a wonderful artist who, in 1995, was taken home to be with the Lord. After high school, I entered the army, spent time in Germany, and met my first husband there. We ended up settling in the St Louis Missouri area to raise our family.
I have always had a natural gift when it comes to art. In 1997, I sculpted my first doll. I would look at a picture of someones child, and sculpt a figurine to look like them. Time and time again, they would look just like the picture. I created quite a number of these figurines. They can be viewed in my portfolio on this site, and can be custom ordered upon request.


View scupltures

I have always had a desire to paint, but I have never taken any art classes and didn't really know where to begin. With the encouragement of my present husband Dennis, I painted my first mural on the wall of our living room. I wanted to give our birds a room with a view.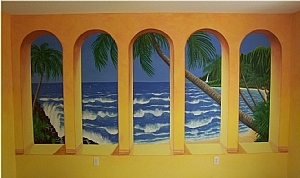 View murals

A friend saw my painting and got me connected with my next opportunity. I painted four murals on the walls around an indoor playground. Each wall was 8 ft x 30 ft, which gave me a lot of practice and exposure. The business has since closed, but I count it as a valuable painting experience. With mostly word of mouth referrals, and some local advertising, our business and my experience has grown. I am now painting decorative and faux finishes in addition to my murals.


View childrens murals

This was not enough for me, I still had that burning desire to try my hand at oil painting. In the fall of 2007, our church announced an art exhibition they were planning for January 2008. The subject was to be "Seeing Jesus in everyday life". That was it, the draw of the canvas, and the call on my life was too strong to ignore any longer. My first oil painting, "The Sea of Forgetfulness", was created.




I have had the painting professionally scanned, and have had Giclee prints made. I have 2 sizes of limited edition, signed and numbered prints available. Canvas prints are also available for those who are interested. This is the first of many paintings to come. Creating this oil painting has given me so such joy. Will I ever take any formal art classes? I don't know for sure, but I will never stop learning and will always remain humble and teachable.
God bless,
Kathy Chopp